Kala over at
Vegancraftastic
and I arranged to do a June swap. She sent her package to me a few days ago and I received it yesterday. I got lots of awesome goodies! Here are some pictures. Sorry about the low lighting in the living room - it was 100+ degrees outside - no way was I going out to burn!
I have the vegan rib cage print in pink framed in my office, I am actually going to put this one in the kitchen! Chocolate coins - I am saving one to leave at the cemetery for my sister - she loved these! Green goddess seasoning, soda pop candy, purse sized nutty chocolate spread - yes! Also look at the awesome buttons I will be rockin' from her
Etsy shop
!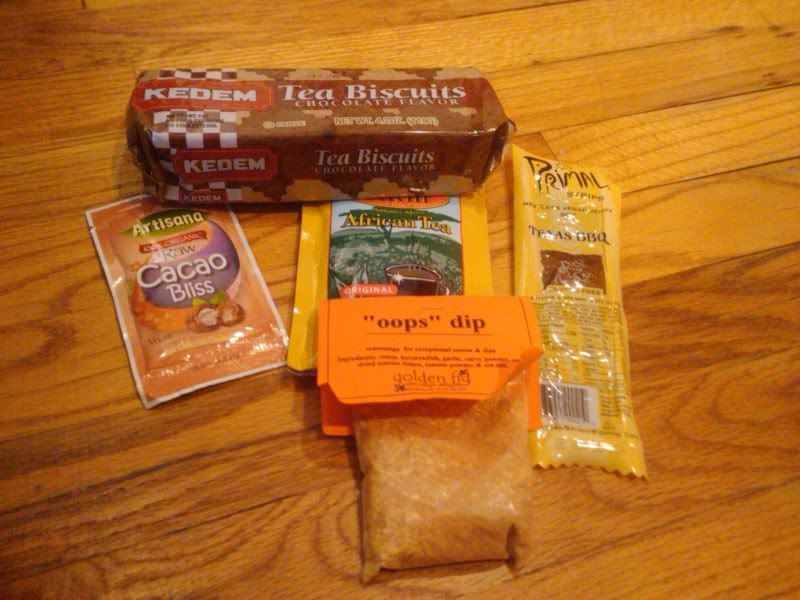 Primal Strip - my boyfriend asked if we could pick up some of these when we are in Sacramento this week - he was like 'mmmmMMMMmmmm', tea biscuits - yummy on their own - but spread a bit of Speculoos spread on them and you just take them to a new level! Tea, spices and more yummy spread round it all out in this photo!
Paper Source paper craft stuff: awesome because I am learning how to lino block carve and really want some cool papers to try out! Strawberry stuff for my collection: new purse pen and a wee lil spatula!!!
Thank you Kala - you rocked my day! I hope when you get back from your vacation my box brings a smile on your face!