My boyfriend and I went to San Francisco last Saturday to see Best Coast and Wavves in concert. We went up early in the day to eat and do a bit of shopping.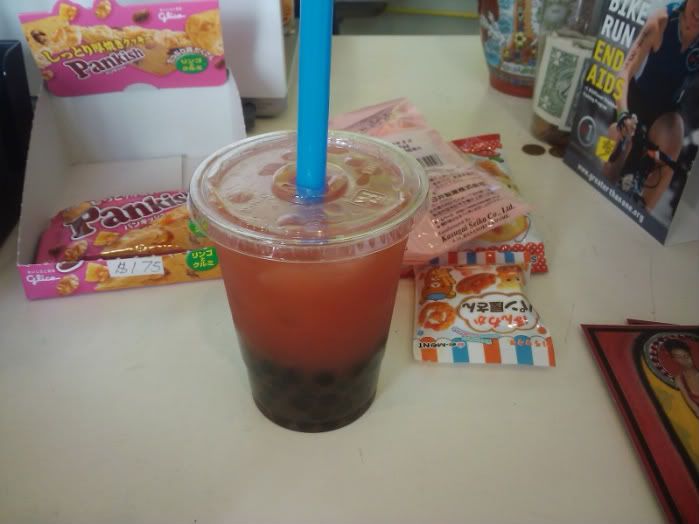 I had to go to
Chamalyn
for bubble tea! Last time we went it was closed and I really love the girl behind the counter and the selections of kawaii stuff and vegan bubble tea! I got a strawberry bubble tea, some litche candy and some cute toys! This is one of my favorite San Francisco stores!
We then headed over to
Gracias Madre
for lunch. We both held off on this place for a long time because we are Mexican food snobs. There were some major hits and some dishes I was not so happy with. The best part were the gorditas! So yummy and dream worthy. I also should state - I had sangria, I got a bit tipsy and my boyfriend discovered the best beer ever!
While in the Mission we went to
Good Vibrations
and encountered a guy who made a purchase from my boyfriend's
Etsy store
the day before. I noticed his Lego brooch, not my boyfriend's design, we all started talking and he recognized my boyfriend's name! What a cool event right? We also headed over to
Needles and Pens
where I picked up some food zines for inspiration.
We then headed back to BART and made our way to West Field mall to do some shopping there and around Union Square. My two favorite shops in West Field this time around was
Melvita
where I bought some new products I will review soon and
Lupicia
- for tea time (I bought Strawberry Vanilla tea - so yummy).
We were not really hungry after our huge lunch so we got combo plates from
Loving Hut
for dinner before the concert. After the concert we took a taxi back to BART and made our way home! Fun day and night!