We went up to Oakland for the day on Saturday. Matt is shooting a
movie
there so we went to location scout and eat! We made it in time for brunch at Pepples Doughnuts (the doughnut farm)!
I was a bit shaky after our bridge adventure heading into SF (the GPS did not navigate us well) but after the warm greeting we got down to business. I went for the tofu scramble and Matt ordered the mole burrito.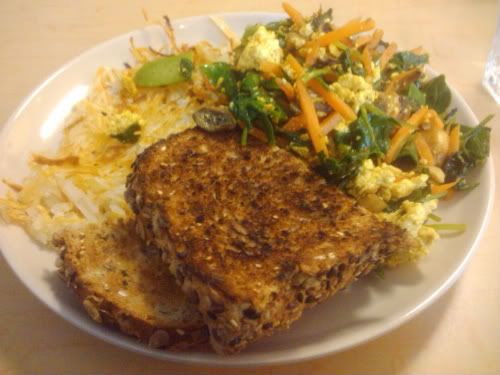 The scramble was light, fluffy and yummy. I got Dave's Killer Bread toast and ordered a Hodo Soy 'sausage' patty which was not really sausage like but more like a fried egg (no pics sorry - to busy eating) - soooooo good! There was even a big ol' bottle of Sriracha on the table for my hash browns!
Matt really dug his burrito! He said the refried beans were really tasty! He ordered it was spicy sausage but it came out as a side - which worked out better since it would probably overwhelm the delicate flavors going on. Matt even bought a box of doughnuts to go!
We location scouted, enjoyed the weather, zine shopped and had a green juice at Cafe Crush (which we discovered last time). The weather was perfect and when we got home we got to eat doughnuts!
I can't wait to go back!