So last week my boyfriend and I headed to Oakland to see Morrissey. Before hand we checked out a few stores (I was looking for zines -
Issues
will carry The Easy Vegan starting this week!), had tea and sampled the best green juice smoothie at
Crush
and ate at
Souley Vegan
.
We ordered okra to split. I ordered the fried tofu, greens and biscuit and gravy. As well as a sakatini and piece of cheeze cake to split.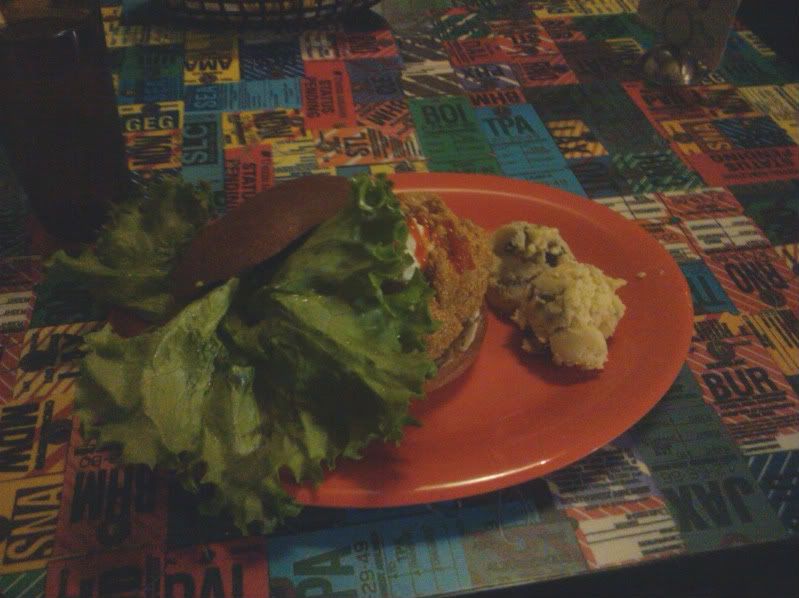 Matt ordered the spicy burger and potato salad on the side and had a Fat Tire later on.
This is our second time at Souley Vegan. We came hungry! I think we want to enjoy our food more but some things need improvement or maybe we are just picky. First off if you see the pic of Matt's side of potato salad - it is to tablespoon sized scoops - that is not really a side - is it? The spice level of Matt's food was non existent. The fried items lack flavor - the texture is great but unless you load it up with hot sauce (the table hot sauce is Frank's) the flavor is lacking. The dipping sauce is just vegan mayo - I think ranch would be better (I do not like mayo!
)On the plus side the greens were so yummy - lots of spicy taste going on that I would go back just to eat those! The biscuit was nice and fluffy too.
After dinner we found out the concert was cancelled - he did that last year...I was bummed but felt it coming. A fan gave us a bootleg copy of his return to the Hollywood bowl DVD which was great. The only thing open that was around was a bar have a HIV awareness night - we checked it out and headed home.