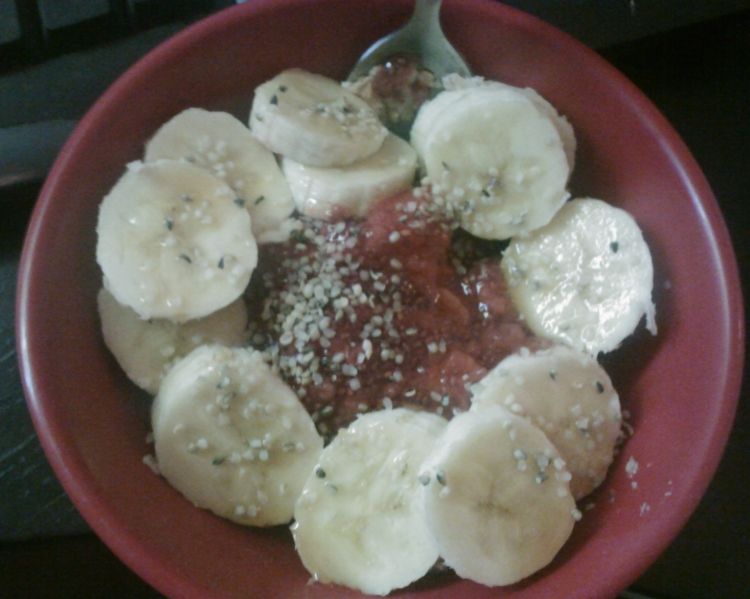 Lately I have been on a jam kick! I make a batch every week and serve it up pretty much daily. It is easy, tasty and does not require a degree in canning.
Easy Chia Berry Jam
1 package of frozen berries of your choice (I like mixed berries or strawberries, make sure you buy organic when it comes to berries because berries are sprayed heavily)
about a tablespoon of water or a bit more
a squeeze of fresh lemon juice
a hefty squeeze of maple syrup or agave
2 tablespoons of chia seeds
In a small saucepan place berries, maple syrup/agave, water and lemon juice and set the heat to a low medium heat. Stir and cover. Check back in about five minutes. Take the back of a fork and see if the berries are becoming unfrozen by squishing some against the pot. Mix in any juice you got out. Cover with the lid and cook for another five minutes. Squish more berries, by this time you can get most of them broken down into a nice mushy texture, keep breaking down any large clumps.Take the mix off of the heat and mix in chia seeds. Let cool for a few minutes, place in a clean jar (I use recycled food jars that have been cleaned). Refrigerate for 30 minutes to let the jam set up and enjoy. You have about two cup of yummy jam at your call! Eat it up - it will keep for a week in the fridge!
No need for pectin in this recipe, chia seeds act like a powerhouse binder. You get a chunky seedy jam that is not full of sugary crap and is super fresh and tasty. I serve it up over oatmeal. The above photo was for Matt's birthday breakfast. Oatmeal, strawberry chia jam, a sliced banana, maple syrup and Hemp Hearts. Yummy!
You can use fresh berries, it will be less cooking time. I find frozen berries are cheaper and fresher than what I find at the market sometimes.Trader Joe's has an excellent price on frozen organic berries!Shop around, try your farmer's market and the store, see what is fresh and on sale!